Smart vents can help you manage your HVAC and set the ideal temperature in every room of your house. This is accomplished automatically and remotely. However, smart vents are still relatively underutilized. Many people are upgrading their thermostats, but missing a critical opportunity when it comes to controlling airflow.
In this buyer's guide, we'll discuss all you need to know about smart vents. This will be accompanied by our recommendations and reviews for the best smart vent products available today.
Let us begin by discussing some of the important concepts behind setting up a smart vent system. 
Click here to jump to smart vent reviews
Table Of Contents:
What is a smart vent and how does it work?
What are the advantages of using smart air vents?
Disadvantages to using smart vents.
Do I need to change all my vents?
Will smart vents harm my HVAC system?
Factors to consider when choosing a smart vent.
Best Smart Vents Of 2020

Flair Smart Vents
Keen Smart Vents
Ecovent Smart Vents

Conclusion
What is a smart vent and how does it work?
Smart vents are automated air registers that open and close to impede or allow airflow from your HVAC to specific rooms of your house based on your programmed preferences.
The traditional HVAC vent typically offers a one-size-fits-all approach to heating and cooling, and typically works like this:
Air is heated or cooled according to the user's needs, and then forced to circulate the building. The heated or cooled air will go through the vents to enter a room. Generally, these vents can be closed or opened manually to control (in a very limited way) the amount of hot or cold air being allowed in a particular room.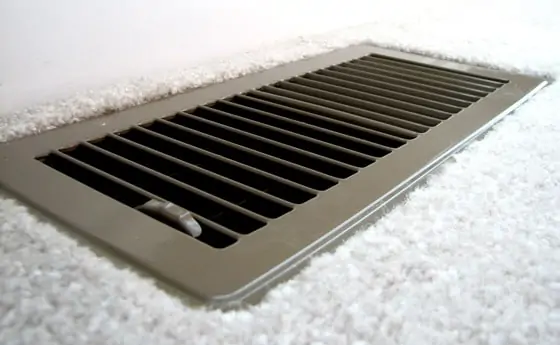 So, for example, a homeowner can close a room's vents when they leave the room in an attempt not to heat that area while not in use. This can also force more air to other areas of the house. However, this can be an impractical process, and sometimes, unsafe (when a vent is located in a high ceiling or other potentially unsafe places). 
So, what about the smart vents? As with any "smart" home devices, the smart vent utilizes sensors and the internet to improve its performance. More specifically, the smart vents typically involve three extra components:
Motion and proximity sensors, to detect whether there is any activity within the room
Smart thermostats, as you might have guessed, can automatically adjust the HVAC system based on temperature
Motor or actuator, automatically open and close to redirect the air as required
A proper smart vent system allows you to automatically set and adjust the ideal temperature in virtually every room in your house. When you want a room to be cooler, the smart vent will allow more cooled air (when using A/C) from your HVAC system into that room until the smart thermostat detects your desired temperature.
When someone leaves the room, the smart vent can automatically close the vent of that room (or adjust the HVAC temperature). In traditional vent systems, this type of control and automation are only possible with relatively expensive decentralized systems or zoning systems (i.e., baseboard heaters). 
What are the advantages of using smart air vents?
Have you noticed that maybe some rooms in your house are hotter or cooler than other rooms? Or maybe one member of your family is always cold?
Well, a smart vent system can automate the heating/cooling of individual rooms in your house. This combats situations like this and should save on energy bills in the process.
The smart vent system can automatically adjust itself to reach the desired temperature.
You don't need to open or close the vents or adjust HVAC systems manually when you are in an area of the house.

Motion and/or proximity sensors can detect whether there is any activity in the room and automatically turn on/off the system.

You can potentially save on energy costs by only heating or cooling specific rooms and only while in use.
You can automate the smart vent HVAC system according to our specific needs. For example, it can turn on at a specific time of the day, so the room is properly cooled/heated when you arrive.
You can remotely control the smart vent system when you are not at home. Typically this is done via a smartphone app. This allows you to turn on/off the smart vent system remotely, change its settings, and adjust the temperature of each room.
A proper smart vent system will provide analytic reports. You can use this data to calculate your energy usage, decide when to clean the air filters and much more.
Are there any disadvantages to smart vents?
The motor or actuator that is built into the smart vent system might block a portion of the airflow which could cause a noisy HVAC operation or might affect the temperature.

HVAC professionals could recommend larger openings in some of your rooms to handle the additional airflow being blocked in other rooms. This would depend on your existing setup.

If the smart vent utilizes a smart thermostat (most do), it must be compatible with your existing thermostat. If you don't already have one, this could mean a thermostat upgrade.

Some smart vents might not directly control your heater/furnace or AC systems, but only modulate the air by opening/closing the individual air registers. In some cases, this can lead to potential airflow problems when too many vents are closed but the furnace/AC is still running.

Depending on the model you choose, a smart vent might involve built-in filters that need to be changed on a regular basis.
Do I need to change all my vents over?
Some people choose to add smart vents in a couple of problem areas. Target areas would be rooms that get hotter in the winter (with the heat on), or colder in the summer (when using the AC).
This is where I would start if I was on a budget, and it may be all you need. In general, however, the more vents you change into smart vents, the better the performance of your house's HVAC system. This may mean saving more down the road.
According to Keen, 8 smart vents can create an 8-degree difference between two rooms. While installing more smart vents at once will mean a significantly higher initial investment, you might save more in electric utility bills in the long run.
As we know, smart vents operate by essentially regulating the HVAC airflow according to the user's preferences. When a room requires a certain airflow, the smart vent will increase the air pressure (by closing vents on other rooms). On the other hand, when a room has too high airflow, smart vents can help allocate this excess airflow to the other room.
This will achieve your desired temperature in areas of the house more quickly. This isn't even to mention the possibility of closing off rooms that aren't in use.
Can this be harmful to my HVAC system?
When installed properly, a smart vent system wouldn't break any existing HVAC system. However, there are cases where the smart vent operation can cause mechanical failure in your HVAC system.
The purpose of the smart vent is to maximize the performance and efficiency of the HVAC system and won't directly disrupt the mechanical operation. We can think of the smart vent as a "regulator" that can control an otherwise rigid HVAC system that isn't originally built to be responsive against weather and temperature changes, and especially can't detect the specific needs for the human occupants of the room/house.
With that being said, the smart vent system is designed to complement these initial rigidity of the traditional vent system. The smart vent can assist the HVAC system to regulate the air coming into the system according to the desired temperature that has been determined by the user. This is mainly done by automatically closing and opening the vents. 
When the vents are closed, air pressure will increase in the ducts. On the other hand, the airflow in the closed vents will be reduced, but the produces extra pressure can cause increased airflow in open vents.
However, if too many vents are closed, too much airflow will be forcefully restricted, and this can potentially cause mechanical failure with your HVAC equipment.
So, make sure your smart air vent is equipped with some forms of mechanism to manage air pressure. All smart vent systems we have reviewed in this guide have a pressure monitoring system that can prevent too-low airflow. 
What Factors To Consider When Choosing Between Different Smart Air Vents?
Since smart air vents can be a very significant long-term investment, proper research is necessary so we won't regret the purchase later on. 
So, here are some important features to consider when considering different smart vent products:
Temperature Sensor
This temperature sensor could be a separate external component, built into the vent itself, or it can be reading the temperature in your smart thermostat itself.
Obviously, the main purpose of the temperature sensor is to accurately measure the room temperature and provide the data to the smart vent system. The smart vent system will then use the temperature data to regulate its operation (open/close vents to increase/decrease airflow, etc.).
The smart vent system might or might not offer a built-in sensor. If not, you might also want to check what 3rd-party equipment is going to be compatible with the system (which might determine additional costs).
Pressure Monitoring
As we have briefly discussed above, pressure monitoring is a very important feature of any smart vent system to ensure that the smart system's operation won't break the existing (and expensive) HVAC systems.
The pressure monitoring system will assist the smart vent in its interaction with the HVAC system, and mainly to protect the HVAC system from overloads due to minimum airflow and/or too much pressure.
Smart Home Integration
As with any other smart home devices, considering the compatibility of the smart vent system to other smart appliances, smart home hubs, and/or smart home systems will be very important.
Check the vent's compatibility with other smart sensors (which might affect whether you'll need to purchase or rebuy additional sensors). Also, check how you can customize your experience (i.e. can you integrate with a smart speaker and use voice control?)
Battery 
This one is fairly self-explanatory. Connecting individual wires to your smart vents can be difficult, time-consuming, and expensive, so most people prefer to run smart vents via batteries. So, check what kinds of batteries the vents are compatible with and whether they are rechargeable. 
Size
Last but not least, make sure to purchase the right size according to your existing duct opening (if any). Generally, this would mean removing the existing vent cover so you can accurately measure the opening of the duct (avoid measuring the outer dimensions of the existing vent). Check the smart vent products whether they offer enough variety of sizes of their products. 
Best smart air vents of 2021
Now that we've discussed all you need to know and consider about smart vent systems, here are our top three picks of smart vent systems that are worth considering in 2020.
We've thoroughly reviewed various different products available in the market using the criteria we have discussed above. Based on these tests and reviews, here are our recommendations: 
Key Features:
A unique combination of smart vent system and wireless-distributed smart thermostat system
It offers 2 times battery capacity compared to other competitors.
Can be wired (optionally) so you wouldn't have to worry about batteries
Great third-party integration, can work with Samsung SmartThings, Google Nest, Ecobee, and more
Pros:
Relatively affordable for its great set of features
Aesthetically pleasing with modern design
Great efficiency, can save money in the long run
Can work well with heater/furnace and AC 
Simple and intuitive smart zoning interface
Cons:
Need to purchase at least one Puck Wireless Thermostat
Plastic battery compartments, easily break
Our Review:
One of the key highlights of the Flair Smart Vent is its affordability. However, that's not saying Flair is a cheap product since it also offers various conveniences as a smart vent system.
Another great and unique benefit offered by Flair Smart Vent is the long battery life—which, based on our tests, is on average, 2 times longer than most products available in the market—. Also, great 3rd-party integration with various popular smart home products and systems (Nest, SmartThings, etc.)
As with most smart vents, the main feature of Flair is to regulate temperatures in a specific room, according to the user's preferences. 
Flair smart vent is offered in four different sizes:
4" x 10"
4" x 12"
6" x 10"
6" x 12"
Not too many options, but in most cases, should be enough to cater to your house's current needs.
Also, the front panel of the vents is made of metal, so they are quite durable and should provide a better long-term overall value. Since most of its competitors are constructed with plastic, this is a very 
Each Flair smart vent includes an AC battery that can last for up to 4 years (which as we have mentioned, twice as long compared to the competitors). If necessary and if you already have existing wires, you can also hardwire the Flair vents with 24VAC power (so you wouldn't need to worry about battery life at all).
The Flair smart vents are also very easy to install and set up. You can set up and control the Flair smart vents using the Flair app (iOS/Android), which features a simple but intuitive interface where you can control various aspects of the smart vents.
You can assign each different vents into any individual room (also the Flair Pucks, more on this below), and then view various graphs and data that tracks temperature shifts and other changes in real-time. 
The flair app also supports geofencing—via Bluetooth—. Here the Flair Puck can detect when the smartphone comes into the Bluetooth range, and then automatically control the vents and regulate the temperature according to the user's preferences.
You can, for example, set up the Flair app so that it regulates any room with your phone in it to a certain degree temperature.
As promised, below we will discuss the Flair Puck, which is a mandatory part of the Flair Smart Vent system
It's important to understand that the Flair smart vent system consists of two mandatory components. You'll need the vents themselves (Flair smart vent) and the Flair Puck to use as the vent's sensor.
The Puck is essentially Flair's integrated thermostat and sensors that can control connected Flair smart vents that are located in the same room. Its sensors can accurately pick up various data from the room's temperature (obviously), air pressure, humidity, and also detect occupancy and motion. Also, the Flair Puck features infrared (IR) blaster that can control mini-split ACs and window ACs.
So, as you can see, the Puck is not only a smart thermostat but a lot more. You will need at least one Flair Puck plugged in if you want to use the Flair Smart Vent system. You can also install additional Flair Pucks as needed. All the Pucks and Smart Vents should be connected to the same WiFi network, and we can control all of them with the smartphone app (as discussed above).
Although the Flair Puck is a really good product on its own as a thermostat/sensor/IR blaster hybrid, since the Puck is mandatory for the Flair Smart Vent System to work, it will ultimately mean additional costs. However, the relatively affordable costs of both the Flair Vents and Pucks offset this (minor) issue.
Verdict:
Simplicity and ease of use are the key highlights of the Flair Smart Vent. They are arguably the best smart vent available. Flair offers really nice 3rd party integrations with various smart home products and brands. Some of them including Amazon Alexa, Honeywell, Ecobee and Samsung SmartThings. 
A minor downside of Flair is that you need to purchase at least one Flair Puck with the system. They are pretty affordable though.
Yet, the great integration to other well-known, quality products is helpful. This can allow you to purchase only one Flair Puck.
The Flair Smart Vent is an excellent, cost-efficient pick if you want to invest in a smart vent. 
Keen Smart Vent 
Click here for current Amazon pricing on Keen Smart Vents.
Click here for current Amazon pricing on the Keen Smart Bridge (needed for Keen Smart Vent integration)
Key Features:
Advanced room-by-room control with auto-balancing mode, the typical house might need 4 to 8 Keen smart vents
Third-party integrations with Google Nest, Samsung SmartThings, and Lowes Iris, among others
Decent battery life (2+ Years)
Zigbee (IEEE 802.15.4) protocol
Pros:
Magnetic front panel for an easier, more secure installation
Pretty decent battery life of 2 years
Decent 3rd party integration with various popular products
Easy installation, can easily replace existing vents
Cons:
Clunky WIFi connectivity, can produce various connection issues
Scheduling is sometimes imprecise
Needs a Keen Smart Bridge to operate a system
Our Review:
The Keen smart vent is one of the more well-known smart vent brands available on the market. One of its unique features is its ability to precisely micromanage individual rooms according to our exact preferences.
Keen is actually really good at making sure the users can personalize the temperature of individual rooms around the house. For example, maybe a room tends to get too cold during the winter. We can specifically tell the vents to regulate more heat to this specific room.
It's important to understand that the Keen Home smart vent system requires at least two different components:
A Keen Smart Vent Unit
A Keen Smart Bridge.
The Smart Bridge is, as the name suggests, a bridging unit which connects the Keen vents with third-party smart home appliances (mainly thermostats or sensors like Nest Thermostat or SmartThings-enabled thermostats/sensors). These third-party sensors will be the ones feeding data to the Keen vents to enable the "smart" operations and automation.
The Keen smart vents are also relatively easy to install and set up, partly due to the unique front panel, which is arguably the most interesting feature of the Keen smart vent (hardware-wise).
Keen Home's smart vent features magnetic front plates, so we don't have to screw the plates onto the vent like its competitors. With this design, we can easily swap a Keen vent to clean it, change the batteries or when it gets damaged.
This is a really practical and intuitive design, and probably one of Keen's best qualities. Also Keen offers a really comprehensive user manual, so you can easily follow it step by step 
Similar to Flair, Keen smart vents are available in four different sizes:
4" x 10"
4" x 12"
6" x 10"
6" x 12"
One Keen Home smart vent uses 4 AA batteries (the first 4 are included with the unit), which can last for roughly 2 years. In this aspect, Flair Smart Vent is significantly better. Not only does the Flair have a better battery life, but there is no option to hardwire the Keen vents.
Nevertheless, Keen still offers a pretty decent battery life, and each vent features a built-in multi-color LED that can provide various flashes of colors to signal different things (whether it's connecting to the WiFi, heating, etc. ). You can also easily tell whether a vent is currently operational from the LED glow. 
As far as software goes, the Keen smartphone app is pretty decent, especially in managing various third-party devices and micromanaging each room's temperature. However, during our tests, we faced several software-related difficulties.
The first issue that stood out was the WiFi connection ending abruptly several times. Also, the smart scheduling and automation features are, in my opinion, rather clunky and not too intuitive. 
Finally, it's worth noting that Keen Smart Vents are slightly more expensive than Flair's. You also have to factor in the smart bridge, if you need a new smart thermostat and any external sensor's you might need.
Verdict: 
The Keen Home smart vent's key highlight is its intuitive installation and ease of use especially due to its magnetic plate design. However, since Keen's system as a whole is slightly more expensive than Flair, would the ease of installation alone justify the cost?
I'll let you be the judge. The Keen smart vent system is pretty decent and well-rounded in its various features and also offers decent integration with various third-party devices like Nest and Ecobee (although you need a Keen Smart Bridge for the integration).
We encountered several software-related issues during our tests with the Keen smart vent, especially WiFi connectivity issues. Albeit minor, these connectivity issues might hinder the smart vent's overall performance in the long run and might disrupt its purpose to improve energy efficiency.
Ecovent Smart Vents
Check out Ecovent here on Amazon
Key Features:
Designed for very precise and very silent operation
Built-in temperature and pressure sensors that can accurately monitor the room's conditions and the performance of your HVAC systems
All vents within the same WiFi network can communicate with each other
1+ year battery life, each vent required 4 AA batteries
Pros:
Can precisely regulate individual room temperature via motorized smart vents
Motor/actuator opens and closes the vents when prompted and according to data/schedule
Motor runs silently
Integrated thermostat and air pressure sensor to protect the HVAC system
Easy installation, don't require wiring, calibration, and ductwork
Cons:
Expensive compared to other competitors
Requires Ecovent Room Sensor (EVSENS) and Smart Hub (EVHUB) to work 
Our Review:
Many people consider Ecovent the most high-end, complete smart vent system available in the market today. However, they are also significantly more expensive than its competitors, roughly twice as much as Keen and Flair smart vent systems. Yet, the rich set of features offered by Ecovent can justify the expensive price tag: Ecovent smart vents are really well-designed, 
The Ecovent sports a really elegant and modern-looking, yet simple, design. Also, all the Ecovent vents feature built-in temperature and air pressure sensors to protect your expensive HVAC system (as discussed further above). 
A part of why Ecovent smart vent system is more expensive than the competitors is due to the mandatory installation of at least one Ecovent Room Sensor (EVSENS) and one Ecovent Smart Hub (EVHUB). The EVHUB alone is roughly five times as expensive as Keen's Smart Bridge—which essentially has similar functions—. This can be a huge downside since you'll require a pretty significant initial investment if you decide on Ecovent as your smart vent system. 
Each Ecovent vent requires 4AA batteries and can't be hardwired, and the batteries can last for at least one year. So, in this aspect, Ecovent is not as good as Flair. 
Verdict: 
Almost everything about Ecovent is really, really good except one thing: its price. All of Ecovents products from the smart vents, Room Sensor (EVSENS), and Smart Hub (EVHUB) are really well-designed and well-built.
Ecovent doesn't list individual components on their website, but they only list complete smart vent systems as packages. However, we can indeed purchase Ecovent's products separately in retail in various eCommerce sites (including Amazon).
If you do have the budget and want to invest in a state-of-the-art smart vent system, however, Ecovent is an excellent choice that is going to worth every penny.
Conclusion
The 3 best smart vent systems we have discussed above are our top picks based on our tests on various products and brands available in the market.
Our number one pick here goes to the Flair smart vent system due to its cost-effectiveness and overall performance, but all models presented are great upgrades to your HVAC with their own advantages and disadvantages. 
We hope you've gathered enough information from this buying guide, and can make a better purchase decision with what we've shared.
Check out our smart thermostat review of Ecobee and Nest here.